Transport
Breakbulk or containers? Steel or soft commodities? We can move it! The Zuidnatie team carefully and timely transports your cargo to its different destinations. You do the kick-off, we go for the touchdown!
Activities
Partnering up with Zuidnatie to transport your precious goods? You needn't think twice. Our transport department offers a wide range of transport services by road, rail or water. We're not just cheering you on from the sidelines, we actively channel and organize your breakbulk and bulk transportation, your soft commodities, your metals and containers. We move mountains while moving your cargo!
Next to local harbor and national transport, Zuidnatie is an unequaled partner for international road and barge transport. Our experienced team also specializes in exceptional transport and dynamic solutions. Our people are our strength and there is no challenge we cannot tackle!
Explore all our services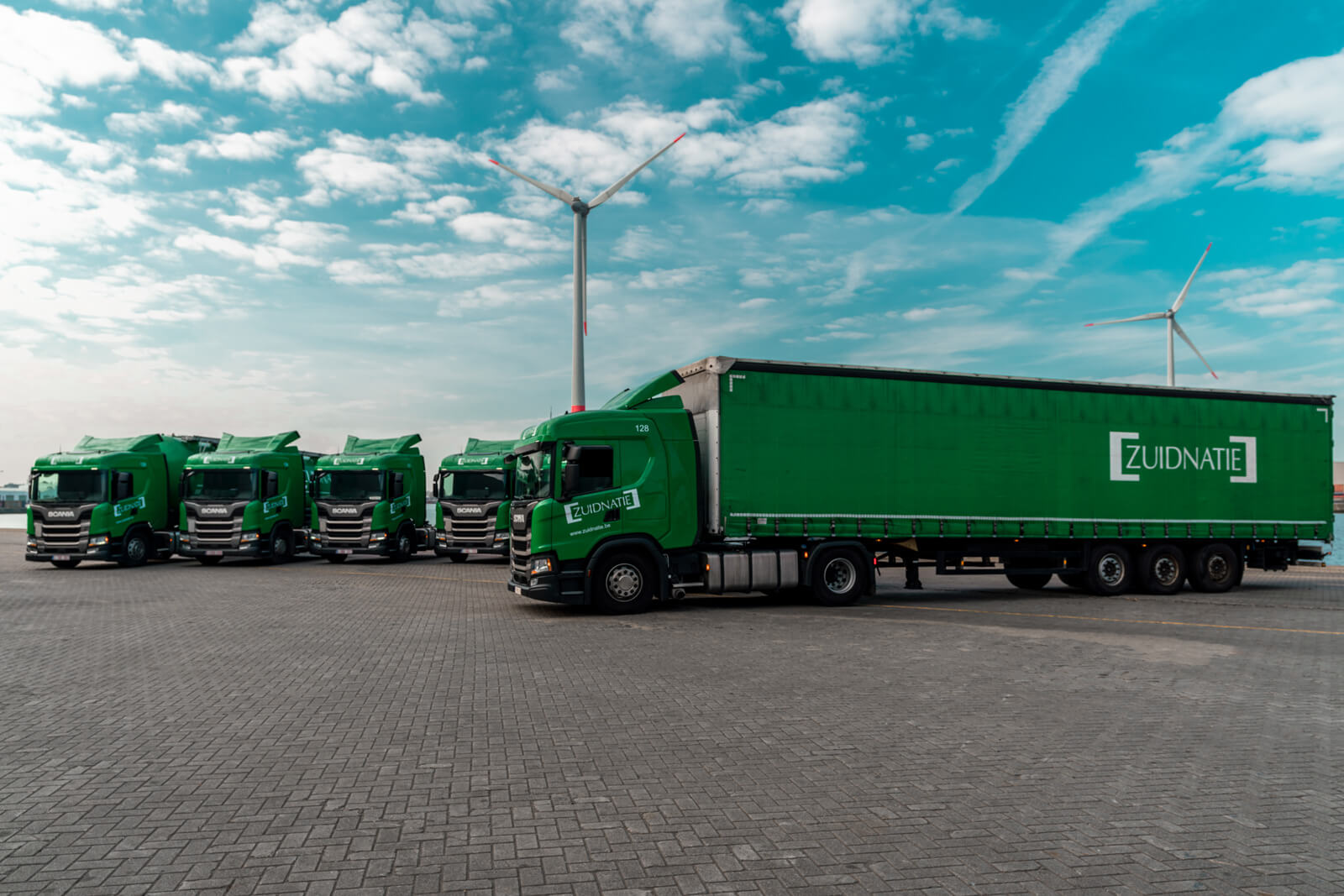 The Zuidnatie fleet
As an intermodal transport specialist, Zuidnatie has an all-encompassing fleet to satisfy your transportation needs.
Our fleet consists of bulk trailers and ADR-certified trailers to accommodate hazardous goods, coil trailers to move your steel, trailers for conventional cargo and container chassis for convenient use.
We offer complete intermodal transport by truck, barge, and rail. The entire Zuidnatie fleet has as an ultra-modern track-and-trace scheme, backed by the latest tools in automation and digitization. You can follow each vehicle in real-time and instantly pass instructions to the drivers via on-board computers. Even for last-minute transport orders or changes, we move your score to the top of the board!
Our barge for containers
To quickly get the touchdown, Zuidnatie has its own barge sailing. MV Zuidnatie 9 is dedicated to the transport of containers within the port of Antwerp, mainly sailing to the deep-sea terminals. Let our barge move for you!
We put your freight on rails
At Zuidnatie, we assume our responsibility as the forerunner in the modal shift ambitions of the Port of Antwerp. Our Terminal Zuid and Breakbulk Terminal are equipped with rail connections and operations. We created an unique rail operating protocol that fully complies with the European Regulations. With this protocol, Zuidnatie focuses more on rail transport and aims for an efficient 'last mile' rail operation while avoiding bottlenecks. Green is not only the company color, but we are very ambitious to achieve sustainability, quality and multimodal.
By combining our fleet, barges, and trimodal location reachable by road, rail, and water, we can offer our customers flexible and multimodal transport options. All our terminals are located in a congestion-free area, close to the highway. Zuidnatie carries the load. All you have to do, is cheer!
Check our Railway Protocol