Stevedoring
Stevedoring solutions for all your cargo flows. Zuidnatie leads the way in cargo handling since 1870. We play the whole field, as a multipurpose company for loading and discharging breakbulk cargo, containers, consolidation and distribution.
Activities
At Zuidnatie we know: our success is your success. This is why we take remarkable care of your cargo in all our stevedoring activities. With more than 150 years of experience under our belt, we employ a well-trained staff and use state-of-the-art equipment to load or discharge all types of vessels with a variety of cargo. From seagoing vessels and coasters, to barges and roro vessels to trucks and rail wagons. As a market leader in multipurpose handling, we cover the whole nine yards.
Nobody tops our operational team in safety, quality and efficiency. Nothing exceeds our modern equipment for loading, discharging, lashing and securing your goods. Our extraordinary team handles it, no matter how tough it gets!
Explore all our services
Specialist in multipurpose handling
Besides our years of experience in steel, iron and general cargo, one of our team's specialties is heavy lift and project handling. To secure the treatment of your cargo, a heavy lift engineer is always available to prepare the operations. With our 14 shore cranes, we can lift up your cargo to 400 tons. For cargo exceeding 400 tons, the floating Brabo crane of Port of Antwerp can be rented which can lift up to 800 tons.
In order to handling your cargo in a safe and effective way, we keep investing in lifting equipment. Every three months all lifting equipment is re-certified to ensure high-quality and safe handling. Our wide range of shore cranes, forklifts, reach stackers, empty container handlers, mafi trailers and SPMT guarantees a flexible and reliable service. We recently invested in a four cable crane with grap to offer you bulk handling.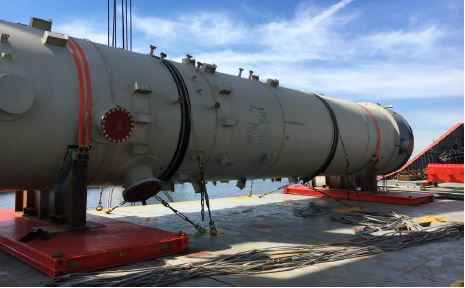 Lashing, securing and (un)welding
Like a quarterback in a football game, we play a central role in the distribution of your cargo. Part of our custom-fit multipurpose solution package from A to Z, is the important securing of your cargo. Our outstanding team covers offense and defense in getting your project cargo, heavy lifts and steel cargo sea-worthy. They are specialists in high-quality lashing, securing, cutting, grinding and (un)welding. Nothing moves until you want it!
Terminals
Zuidnatie terminals are located in a congestion-free area on the right bank, 5 minutes from the highway, and close to important rail hubs.
We have 2 multipurpose and 1 container terminal to accommodate your every stevedoring wish. Zuidnatie terminals are dynamic and can quickly adapt to any circumstance. To meet all your possible demands, we regularly invest in special designed infrastructure. Over our 2,87km quay with a maximum depth of 13 meters, we offer state-of-the-art storage solutions, both inside and outside, long-term or short-term. All our warehouses are located at deep-sea terminals. With almost 900.000m² lot water-bound areas, we offer a specially designed heavy lift and consolidation center together with reinforced flooring. For many years, Zuidnatie is a home terminal for first class shipping lines.
Zuidnatie's dynamic area for landside operations is where the magic happens. It's where truck drivers start and finish, where railcars are loaded and discharged and barges are handled. It's where your transshipment sets off to and from countless destinations in the world.
Zuidnatie handles a wide range of commodities, such as but not limited to
Timber and plywood
Logs
Paper
Pulps and cellulose
Pallets
Big bags
Rice
Sugar
Coffee
Cocoa
Malt
Barley
Tobacco
Non-food
Turbines
Generators
OOG cargo
Heavy-weight cargo
Cases
Crates
Unpacked cargo
Cable reels
Machinery
General cargo
Wind projects
Coils (HRC, CRC)
Skidded coils
Steel plates
Sheet pilings (cast iron) pipes and tubes
Beams, profiles and billets
Aluminum, copper and zinc
Nickel and lead
Tubular products
Rails